Blog - Weekly revue: 2017 week #6 (February 4 to 10)
Weekly revue: 2017 week #6 (February 4 to 10)

At the cat café... :)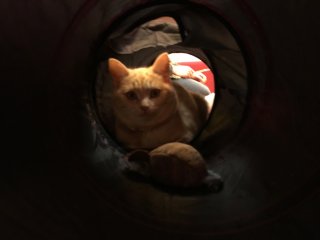 Food: - Pâté de campagne, Kinoshita-gyū steak & frites, and desserts at Matsuki, Nakano
- Couscous royal at Le cabaret, Yoyogi-Uehara
Music event: I went to see YMCK's "Family Swing Show", the release party for new album "Family Swing" that was just released last month. The show was very special in that it was the first time that YMCK were backed by a real band (a jazz trio with woodbass, saxophone and drums — with one of my favorite drummers: Suzuki Kaoru), and also the show consisted of the whole album performed in a musical-like style with even story bits between some of the songs. There were even two stages, a mini side-stage which YMCK hopped to a few times. It was a completely new, rich and fun experience!
As you know YMCK's new album's limited edition comes with a board game! This time they even made a car chase video game that can be played on their site, and clearing it beforehand got you a free sticker at the show! All these details somehow reminded me of the long way YMCK has come. I realized I've been a fan for 13 years! I'm really glad I could see this awesome show, and I love YMCK more than ever. Go YMCK, Go!
Music release news: Negicco, Wednesday Campanella, Mother Tereco, Wakita Monari
Playlist: Rodion, Agata Morio, Mark Robinson, Maika Loubté, ...
This week's video: YMCK "kagayaki yo watashi no te ni (Glory in my hands)"
YMCK "Thrill Me"
Mother Tereco "Echo Love"
Posted on February 12, 2017 at 01:38 | Tweet |
---
Trackback
---
Comments RSS
---