Blog - Weekly revue: 2018 week #4 (January 20 to 26)
Weekly revue: 2018 week #4 (January 20 to 26)

Tokyo had quite a lot of snow this week on Monday...!

Food: - Curry lunch at Cochin Nivas
- French dinner at Yaoyu, Ōtemachi

Music events: Three great events in three days! :D

- On January 20, I went to see a show of The Scooters and The 5.6.7.8's at U.F.O. Club, Higashi-Kōenji! First on stage was The 5.6.7.8's, famous for their appearance in movie "Kill Bill". It was my first time to see them, and they have a fun and rocking good sound. Also it had been a little while since I had seen the Scooters live, so this was the perfect show to catch-up! Each band played a long set of about an hour. DJ Takagi Kan's sets in-between were also great.

The Scooters set list: I Believe in Miracles / Dancing in the Street / Break Away / Young Americans / Hey Girl / Hang on in There Baby / Make You Mine / Shout / Ghost / kanashii uwasa / The Key to Her Ferrari / Motown Medley
Encore: Heat Wave / Tokyo Disco Night

- Then on January 21 there was a new year event held by SOLEIL (Soleil + Sally Kubota + Nakamori Yasuhiro) at Yoyogi Zher The Zoo! They were accompanied by Shirane Kenichi (Great3) on drums, and chorists Hoshino Michiru (!) and Lemon (Soleil's aunt!). Having been building their repertory with every live show, they now had a show of about a dozen songs. Towards the middle of the show, they also let Michiru sing two of her own songs ("ame no naka no Dreamer" and "Magic Hour") accompanied by the band, with Soleil on glockenspiel.

There was also a big announcement of a first album to be released on major label Victor on March 21! It will contain 12 songs, all of which are previously unreleased originals! Composers include Takanami K-tarō, Kaji Hideki, Arai Toshiya, Microstar, Chikada Haruo, and more! I can't wait! :) The event's DJ was Umegasako who played many good tracks before and after the show.

- I also went to special show "hoshikuzu kyōdai Live! 2018" that celebrated the release of movie "The Brand New Legend of the Stardust Brothers" that's now playing at Theatre Shinjuku. Being a sequel to a movie released over 30 years ago ("The Legend of the Stardust Brothers"), the show featured many of the actors, musicians and composers involved in both movies.

The show started with Sunny Kubota & Old Lucky Boys (band of Kubota Shingo who had a lead role in the old movie, and a cameo in the new one), then a three-piece band led by Takagi Kan (who also was one of the two heroes of the first movie), then a dub trio led by Chikada Haruo. My Highlights of this first part of the show were "honmono no Star" (a great song from the first movie, originally sung by Ozaki Kiyohiko), and also "omoi togeta otoko" (original from the new movie) and "Akasaka atari" (sung by Shingo in the first movie), all of these performed by Sunny Kubota et al.

The rest of the show featured more and more songs from the movies. Part of band Daisy Modern's set, actress Arakawa Chika (aka Candy Bunny in the new movie) sang "sakasama tenshi" as heard in the movie, and then surprised with a cover of "Marimo no kimochi" from the old movie (originally sung by Togawa Kyōko)! Next on stage was Nomiya Maki who sang "hoshikuzu kyōdai, tsuki e yuku" as heard in the new movie. Followed a set of Akagi Chūji who wrote several songs in both movies, accompanied by Bravo Komatsu and Kanatsu Hiroshi. He sang "Crazy Game" and "Monitor" from the old movie, and "I'm breaking this world" from the new one.

Next was Issay, who sang "Peace Mark Baby" from the old movie and "Rock na jinsei" from the new movie. Followed Stardust Sisters who sang both of their songs, "hoshikuzu Country" and "sabaku no arashi", to finish with Stardust Brothers who sang theme song "hoshikuzu kyōdai no densetsu". The encore had everyone come back on stage to sing the theme song again, along with the audience. What a wonderful and unique show!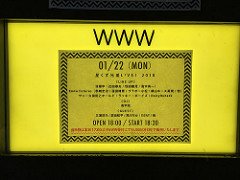 Music release news: Spangle call Lilli line, Toshiyuki Yasuda, fox capture plan, Kinoco Hotel
This week's video: Toshiyuki Yasuda "Landfall"
Posted on January 30, 2018 at 00:07 | Tweet |
---
Trackback
---
Comments RSS
---