Blog - Weekly revue: 2017 weeks #49-50 (December 2 to 15)
Weekly revue: 2017 weeks #49-50 (December 2 to 15)

Food: - Gratin, fish & chips, beef stew and apple pie at Bespoque (Now closed until the end of January)
- Saag chicken curry and chai pudding at Orchestra, Nishi-Ogikubo

Exhibition: - Went to an exhibition of Maki Hirochi's latest "Kichijōji dake ga sumitai machi desuka?" manga (#5 published this month). Held at Daily Coffee Stand in Nogata, where characters enjoy a cafe latte in the book, the original pages of the Nogata chapter are on display. The coffee was great and the owner looked just the same as in drawing. :) Bringing the book gives you a free sticker! This goes on until December 31.

This series is about a real estate agent in Kichijōji ran by twin sisters who love heavy metal. Whenever someone comes to look for a home in Kichijōji, one of the most popular places where to live in Tokyo, they take the surprised customer to a completely different place in the city. Every time real shops and places are depicted accurately and in great detail, and you can feel the love for each. It's what I like in Maki Hirochi's books, same for the "It will be breakfast at Tiffany some day" series.

Unrelated to the exhibition, but last month the latest "It will be breakfast at Tiffany some day" (#12) was published, and I got bookmarks made of cut-up original frames in a giveaway the author was doing on Twitter! And a nice Christmas card too! Thanks!!! :D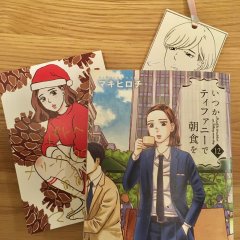 Music events: - On December 10 at Shichōshitsu in Jinbōchō was an event by band SOLEIL, formed of singer Soleil, bassist Sally Kubota and guitarist Nakamori Yasuhiro. The event began with a talk show with Mayutan, who was producer for the singer's previous unit Tanqun Democracy. Together they wrote new lyrics to a self-introduction song, originally Tanqun Democracy's "jikosho", and then sang it together. Then followed a show with the band, accompanied by The Scooters' drummer, and Kunimi Tomoko (Wack Wack Rhythm Band) and Lemon for back-up vocals. The short but sweet set list consisted of "Pinky Fluffy", new song "koi suru Guitar" (for which Soleil used a fancy broomstick as a guitar) and another new song inspired by manga "watashi wa Shingō". The encore was a rocking session with Soleil playing drums.
On my way back, I dropped by Disk Union in Jinbōchō and happened to find an early promo sonosheet by Sally's 80's band The Phantom Gift! :)
- On December 15 was an event at Shimokitazawa Shelter that featured Kaji Hideki and Neil & Iraiza. Neil & Iraiza being back this month with a new album after 15 years (Timeless Melodies), I just had to go! Ihe place was very packed! First on stage was Kaji Hideki, backed by band Otogivanashi for the first time in Tokyo. They were really great, and thanks to the unusual personal the set included some songs that aren't normally often played live.
Kaji Hideki set list: Siesta / amai koibito / Ice Cream Man / Lucky loves you / Love Is All / Have a Lovely Day! / My Favorite Tofflor / My Boom Is Me
Next was Neil & Iraiza who did a set mostly of older songs, and just a new one. Chabe and Horie Hirohisa, both playing keyboards and guitars, were backed by a bassist and girl drummer. So many great keys, Chabe's percussions, and those two sharing main vocals in great nostalgic songs. They did play one song from the new album, "Clock Park Orange". After the show I bought the new album and got a signed card! I've been listening to it almost everyday since, it's just wonderful with all those warm synths and catchy melodies, and a final track that makes you want to push the "play" button again.
Neil & Iraiza set list (from Twitter): Middle Man / Can I Do It / Wasted Time / Dream On The Weaver / Clock Park Orange / My Favorite Shoes / The Picture of Summer Again / Cowboy Kate / Violetta / Tragedy of the Soft Rocker
Last to play was the band that organized the event, Comeback My Daughters. They had a fun vibe, and a very good rock sound with an enjoyable pop sense. Their sound had some country influences. It's not the type of music that I normally listen to, but I really enjoyed seeing them on a shared bill like this. Also thanks for this remarkable booking!
Music release news: Nosa Reina, Neil and Iraiza, Vanilla Beans, Duke Aces, Maika Loubté
This week's video: Manon "Young Dumb & Broke"
Posted on December 23, 2017 at 20:14 | Tweet |
---
Trackback
---
Comments RSS
---