Blog - Weekly revue: 2017 week #42 (October 14 to 20)
Weekly revue: 2017 week #42 (October 14 to 20)

Food: - Chocolate & mint chocolate ice cream at Tomihisa Ice Cream, Shinjuku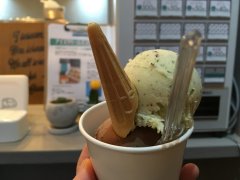 Music events: - On October 15 was the release party of SOLEIL's first single "Pinky Fluffy"! SOLEIL is a band fronted by singer Soleil, bassist/producer Sally Kubota (of Sally Soul Stew, les 5-4-3-2-1) and guitarist Nakamori Yasuhiro (Hicksville). This time they were accompanied by drummer Shirane Kenichi (Great3) and chorist Lemon!
It was the first show in which they performed songs other than the single's, there were some brand new originals and covers, and even some instrumentals too in which the singer showed her skills at playing glockenspiel and drums! This show gave a much wider view of SOLEIL's sound, and a lot to look forward to in upcoming releases. I definitely can't wait to hear those songs again! I got SOLEIL's photo book, with autographs by all three members! :) Many photos of the show can be seen at Natalie.
Set list: SOLEIL no Theme / Pinky Fluffy / koi no Happy Date / koi no Happy Date (The Nolans cover) / Wow Wow Wee (He's The Boy For Me) (The Angels cover) / Captain Scarlet / aoi Ink no Love Letter / Believe In Magic / Breakout (Swing Out Sister cover) / namida no Moonlight / SOLEIL no Theme
Encore: (Session w/ Soleil on drums) / So Much in Love (Timothy B. Schmit cover)
- I dropped by the free opening party of "Shibukaru Matsuri", an annual event organized by Parco, to see singer Manon perform accompanied by producer Yuppa (HNC) and VJ unit onnacodomo! That was a very fun show! Aside from the 4 songs already released, a new one titled "Somewhere" was also played. Yuppa played some live keyboards, and Manon also played toy piano (the intro to "Wavy Pineapple Days") and hit some sampler pads.
I was very happy to see onnacodomo at work, as I hadn't seen them in a long time. They're a very unique and creative team that uses cameras and real toys and cute objects to make live analog-style VJing. Manon's latest video "Popcorn Crisis" was directed by them, and I love it! You can watch a short live video that I shot here.
Set list: xxFANCYPOOLxx / Wavy Pineapple Days / Somewhere / Beat The Bad Luck / Popcorn Crisis
Music release news: Rie Aono, les 5-4-3-2-1, VIDEOTAPEMUSIC
This week's video: VIDEOTAPEMUSIC "Fiction Romance"
Posted on October 22, 2017 at 21:15 | Tweet |
---
Trackback
---
Comments RSS
---