Blog - Weekly revue: 2017 week #40 (September 30 to October 6)
Weekly revue: 2017 week #40 (September 30 to October 6)

Food: - Coffee, cheesecake & chocolate ice cream @ TiKi TaKa Ice Cream by Sarutahiko Coffee, Shinjuku
- Great steak & more at Shonzui, Roppongi

Music events: - For a short period Tokyo Midtown was host of the unique Ark Nova mobile inflatable concert hall installation, a work of architect Arata Isozaki and artist Anish Kapoor created to support recovery of the East Japan Earthquake. Read more about it here. We had the chance to watch a concert by Lucerne Festival-related musicians Reinhold Friedrich (trumpet), Takezawa Eriko (piano) and Andrea Loetscher (flute). They played a selection of pieces by Ravel, Shchedrin, Piazzolla, Falla, Moszkowski and Bizet. The beautiful music in this special place made for a very nice evening.

- On October 3rd was the 10th anniversary of Vanilla Beans' debut (single "U ♥ Me" released on October 3, 2007), and a special event was held on the roof of the Marui department store in Shibuya! They did a mini-live and also announced the release of their 2nd greatest hits album, "Vani Best II", which will include a brand new version of "Tokyo wa yoru no 7ji" produced by none other than Konishi Yasuharu! I can't wait to hear this!

I got a special 10th anniversary badge, and an autographed coaster at the cafe of the same building that was doing related promotion! :)

Set list: Tokyo wa yoru no 7ji / sakasaka Circus / U ♥ Me / Summer Vacation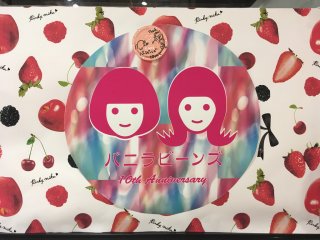 Movie: Went to see "Zen and Bones", directed by Nakamura Takayuki. The documentary movie is about the life of half-Japanese half-American Buddhist priest Henry Mittwer (1918-2012), and follows him up to his very last days. Interviews with the man himself and also family members are paced with drama scenes that retell episodes of his life. The movie also focused on his obsession with making a movie about a girl with red shoes, of which a statue can be found in Yokohama, where he was born.
This movie's soundtrack is also very good, with artists including Nomiya Maki, Tablet Jun, Yokoyama Ken, Kishino You-ichi and Comoesta Yaegashi.
Music release news: "Godzilla Legend V", marino, fox capture plan, CTO LAB., tofubeats, Punpee, Stardust Brothers, Manon, Nomiya Maki, Yashiro Aki
This week's video: Manon "Popcorn Crisis"
Song produced by Yuppa (HNC) & video directed by onnacodomo!
Posted on October 8, 2017 at 23:57 | Tweet |
---
Trackback
---
Comments RSS
---