Blog - Weekly revue: 2017 week #20 (May 13 to 19)
Weekly revue: 2017 week #20 (May 13 to 19)

Food: - Curry lunch at Tapir, Shin-Ōkubo
- Bak kut teh & paper chicken @ Malay fūkō bishoku, Ogikubo

Music events: - I went to "wamono meeting vol.6" at Shibuya Kissa Smile! The DJ event featured Comoesta Yaegashi, DJ Fukutake, Itō Yōichirō (Akakage) & more, plus special guest Konishi Yasuharu! I was happy to hear the original of "Cinderella Liberty" (a song by Yokoyama Ken's old band Cools R.C., recently covered by Nomiya Maki) which DJ Fukutake began his set with. Konishi-san's set was his signature (of the recent years) fast-paced 7" mixing, selecting and mixing the next song in about 30 seconds. That was a very fun event with lots of good groovy Japanese music.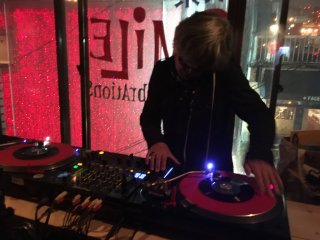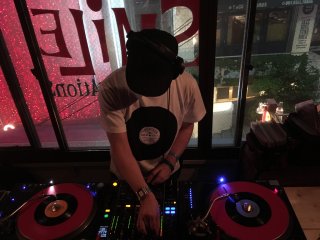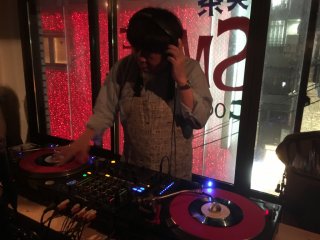 Left to right: Comoesta Yaegashi, DJ Fukutake, Konishi Yasuharu
- Also went to North Indian classical music "Indian Classics Tokyo 2017" at the Suginami Public Hall in Ogikubo. The show consisted of two pieces, a night raga and a late night/midnight raga, each close to an hour duration. The first featured Terahara Tarō on bansuri, Ty Burhoe on tabla and Izawa Makiko on tambura. The second featured Steve Oda on sarode, U-zhaan on tabla, and Ikeda Ayako on tambura. There was also an encore with all musicians playing an Indian folk song.
That was a great concert, probably my first time seeing sarode, an impressive stringed instrument, and also getting to see two of Zakir Hussain's tabla students. The 2nd piece with Steve & U-zhaan was especially mesmerizing! This show also made me intrigued about tambura, an instrument that has an important role in Indian music sound. Checking the merchandise, I randomly bought a tape by Furukawa Miki & U-zhaan, which turned out to be a very recent release of two Japanese traditional songs performed with tabla. Very good!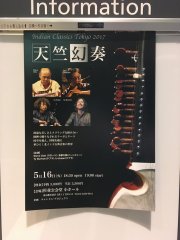 Music release news: Shibata Satoko, Scha Dara Parr & Ego-Wrappin'
This week's video:
Dustin Wong & Takako Minekawa "Elastic Astral Peel"
suiyōbi no Campanella "Unico"
Posted on May 21, 2017 at 12:55 | Tweet |
---
Trackback
---
Comments RSS
---