Blog - Weekly revue: 2014 week #48 (November 22 to 28)
Weekly revue: 2014 week #48 (November 22 to 28)

Outing: Spent last weekend in Ibaraki countryside, enjoying some autumn colors and the Scarecrow Festival that featured various characters made in hay (sometimes). Had great soba and local brand beef (Hitachi beef) and pork (Rose pork) too!

Food: - Soba and tenpura
- Hitachi beef and Rose pork at Iijima

Music event: I went to see Hoshino Michiru! The event was also a release party for a collaboration 7" single with The Scooters, covers of "Tokyo Disco Night" (The Scooters' classic rearranged) and "koi suru Fortune Cookie" (post-Michiru AKB48 hit). The 7" is only sold at shows for the time being. The event also featured The Scooters, Kinoco Hotel and Wack Wack Rhythm Band (who also joined during Michiru's set), with DJs Konishi Yasuharu and Fukutake! That was an awesome event full of music that I love. Check out the all-star curtain call!

Stuff: Got the new "Ease Up" photo zine by our good old Flickr friend TRUE2DEATH who specializes in immortalizing graffiti'd freight trains. His photos are beautiful, and so is this 40-page full bleed zine! Each comes with a photo print, vintage railroad stationary and an original sticker. It can be bought online here.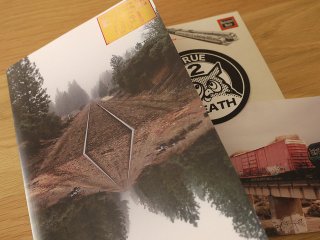 Music release news: The Lady Spade, enami Taisuke, nananon, Taketatsu Ayana
Playlist: Yume to Cosme, Hoshino Michiru, etc. Just been too lazy to update!
This week's video: Making movie of CAPSULE's upcoming album "Wave Runner" (Feb. 18, 2015)
Posted on November 29, 2014 at 15:12 | Tweet |
---
Trackback
---
Comments RSS
---