Blog - Weekly revue: 2014 week #44 (October 25 to 31)
Weekly revue: 2014 week #44 (October 25 to 31)

Food: - Pumpkin cheesecake at Sunday Bake Shop
- Gingerbread latte at Starbucks! It's back this year again! :)

Shopping: - Some 600 personal items of Nomiya Maki are on display and for sale at Pass the Baton, Harajuku. Anything from clothing to Barbie dolls, badges and accessories, also some rare Pizzicato Five goods, etc. There will be a special live and talk event at the shop on Saturday November 15 from 19:00.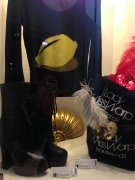 New music: - I got jōdan hakushaku's 2nd single "nagisa", it's the unit of Maezono Naoki and Arai Toshiya (Missing Linc, Kofta, and programmer for Konishi Yasuharu). I love their 1st single so I couldn't resist. This one is great too! A 3rd single has already been announced for December 2. Could an album be coming?
- I got Denki Groove's new mini-album "25", in its limited edition that comes with a 7"! Many fun tracks.
- Also Akane Hosaka has released a mini-album titled "Loop Music". It's available for free at Bandcamp so go get it. :) There are still copies of her previous album "pikkonoco" available at Tokyo Recohan.
Music release news: Josei, Especia, Yun*chi
Playlist: Negicco, Denki Groove, Vanilla Beans, Pizzicato Five, jōdan hakushaku
This week's videos:
Vanilla Beans "uchōten Girl"
Denki Groove "Baby's on Fire" (might only play in Japan though)
Posted on November 2, 2014 at 14:20 | Tweet |
---
Trackback
---
Comments RSS
---