Blog - Wii
Wii
Since Christmas we have a Wii in the house (thanks to Santa-san!) and it's been a lot of fun getting used to this new style of game play!
For starters we've got Wii Sports and hajimete no Wii ("Wii Play") which should keep us busy for a little while. I had read a lot of "so-so" reviews regarding hajimete no Wii, and got it anyway for the extra controller, but I found it to include some really fun games. I especially find "ushi Race" ("Charge!"), "Billiards" and "Shooting" addicting. As for Wii Sports, so far I really like the tennis and bowling!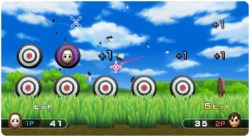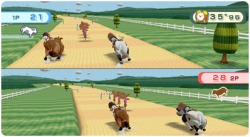 Nintendo have been offering free new safer straps to those who got the Wii early. I had filled-in the form last week and received two new straps today.
The package included a prepaid return envelope to send back the unsafe straps, and I realized the one that came with "hajimete no Wii" was of the safe type so I'm only sending back the other one that came with the Wii itself.

I also got a USB wireless LAN adapter for my PC which can be used as an access point, the GW-US54Mini-G (or "Game Link X") by Planex, mainly to use with the Wii. It was cheap at ¥2500 at Amazon and works on more platforms than Nintendo's Wi-Fi Connection (which is XP-only). It's packaged to look like it's for games only (they even only document PSP and DS), but it's really a full-featured access point. Good stuff!
Posted on December 28, 2006 at 23:59 | Tweet |
---
Comments RSS
---