Blog - Laser printers' invisible watermark
Laser printers' invisible watermark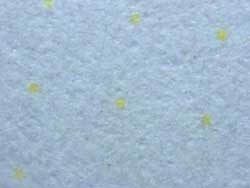 Interesting find today in the news: a lot of color laser printers and copiers secretly add-in a watermark matrix of microscopic-sized yellow dots. These contain the print date and time, and also the printer's unique serial number. While inoffensive in most situations, this can also certainly be a serious privacy issue.
The scheme, while kept secret by most printer makers, was cracked by the Electronic Frontier Foundation, a non-profit group that fights for digital rights.
Inspecting some color-printed paper at work with a magnifier, I did find some of those yellow dot matrixes.
EFF: Is Your Printer Spying On You?
EFF: List of Printers Which Do or Don't Print Tracking Dots
EFF: DocuColor Tracking Dot Decoding Guide
Posted on October 20, 2005 at 15:56 | Tweet |
---
Trackback
---
Comments RSS
---